Center Drive draaibank Foar Supporting Roller
Produkt Detail
Produkt Tags
Dûbele ein CNC draaibank
De dûbele-ein CNC draaibank is in effisjinte en hege-precision masine.De workpiece clamped kin draaie de bûtenste sirkel, ein gesicht en ynderlike gat tagelyk.De produksje-effisjinsje is heger dan it tradisjonele proses, en de koaksialiteit en krektens fan 'e ferwurke dielen binne better.
Neffens klant syn fersyk, laden en lossen auxiliaire apparaten en automatyske laden en lossen apparaten kinne wurde levere willekeurich.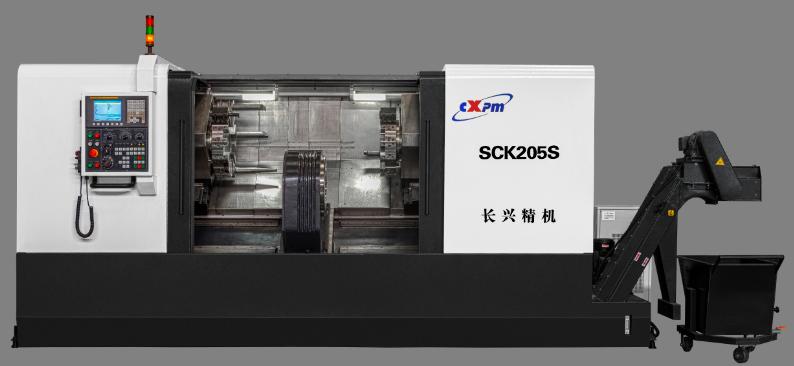 Tsjinoer dual-spindle CNC draaibank
De masine ark wurdt benammen brûkt foar it draaien fan koarte skacht en lytse skiif dielen.
Troch de automatyske oerdracht tusken de twa sekwinsjes fan it ferwurkjen fan workpieces foltôget de masine de ferwurking fan respektivelik it binnenste gat, de bûtenste sirkel en beide einen fan it diel.
De masine kin wurde foarsjoen fan manipulators, automatyske laden en lossen en opslach apparaten te foltôgjen de folslein automatisearre ferwurking fan parts.t is spesjaal ûntwikkele foar it draaien ferwurkjen fan koarte shaft en lytse plaat dielen.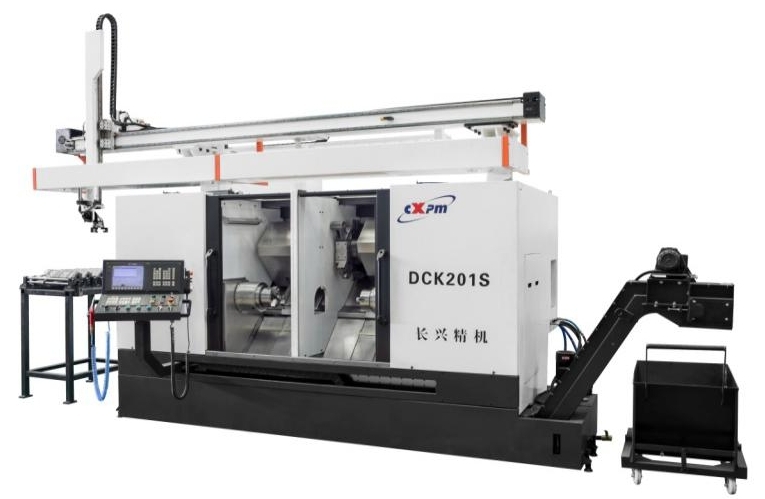 Stypje Roller Machining Solution
Support roller is ien fan de wichtige ûnderdielen fan "fjouwer tsjillen en ien riem" yn crawler bulldozers en hydraulyske graafmachines.
D'r binne 4 spesifikaasjes fan bulldozerrollen en 7 spesifikaasjes fan graafroller, neffens ús besteande modellen binne wy ​​ferdield yn 3 kategoryen: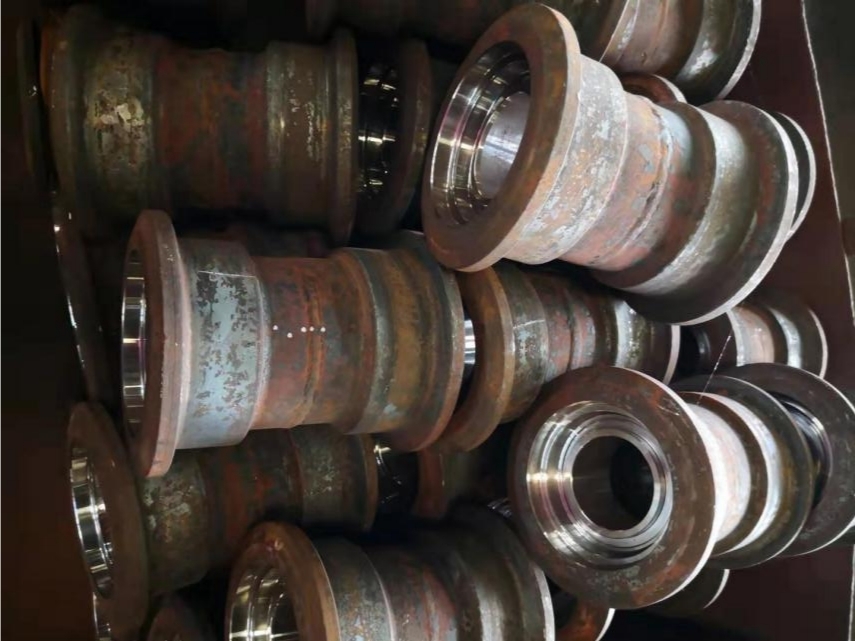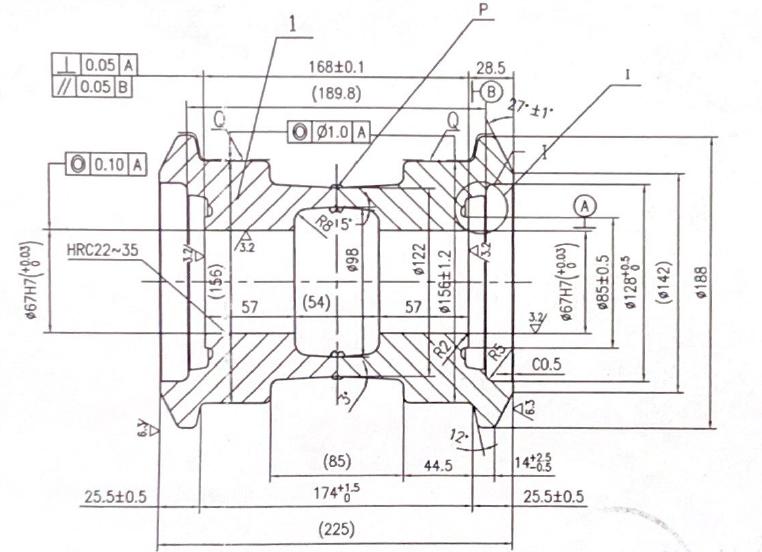 Stypje roller spesifikaasje berik en oanrikkemandearre masine
Roller bûtenste diameter

(∮A)

Roller lingte

Machine Model

Max.

Clamping diameter

Headstock breedte

∮130

(Oer 2D)

SCK205S

∮175

175

∮139

Leech 136

∮163

Leech 137

∮188

Leech 185

∮250

280

∮212

Rough 234 (klein produkt 225)

∮250

248

∮340

Rough 286 (ôfmakke produkt 279)

Te ûntwikkeljen

 

 
Skematyske diagram fan stypjende roller wurdt ferwurke troch de masine as folget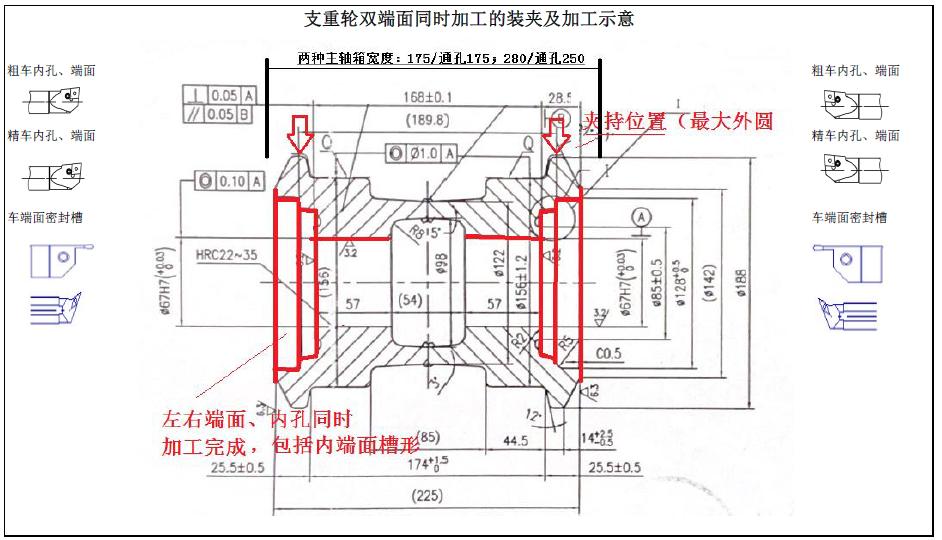 Machine Yntroduksje
SCK205S dûbele-ein CNC draaibank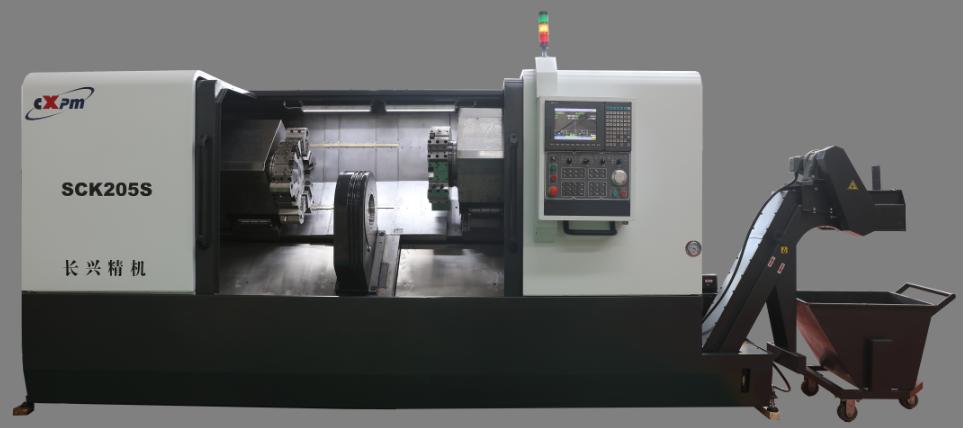 ■ De masine oannimt 450 oanstriid bed layout, dat hat goede rigidity en handige chip removal.
■De spindelkast yntegreart de trije komponinten fan it spindelsysteem, fixture en klemsilinder, mei kompakte struktuer en betrouber wurk.De fixture wurdt hydraulysk clamped.De klemdiameter fan 'e klem is ferdield yn twa blokken.
■De klem is fan it type fan spannamme.Oanpasse klauwen wurde ynstalleare yn 'e elastyske chuck om de ferwurkingsdielen te ferfangen en de klemdiameter te feroarjen.Jo moatte allinnich ferfange de oanpassing klauwen, dat is fluch en handich.
■ Meardere saai ark binne fereaske neffens de machined dielen.Om ynterferinsje fan 'e ark te foarkommen, wurdt de turret oanpast, en de rotearjende diameter fan' e snijkop is grut.Om de toer stiifer te meitsjen, is de middenhichte fan 'e toer 125mm.
■De masine is foarsjoen fan in dual-channel kontrôle systeem, en de twa ark rêsten kinne wurde keppele oan de spindle tagelyk of apart te foltôgjen simultane of opienfolgjende ferwurking fan beide einen fan it diel.
■Om de ferskillende easken fan ferskate klanten te foldwaan, kin dit masine-ark wurde foarsjoen fan lofts / rjochts konsole foar klanten om te kiezen.
■ Wat it laden en lossen oanbelanget, is it op it stuit hânmjittich laden en lossen.Sjoen it swiere gewicht fan de stypjende tsjillen, truss-type of joint-type automatyske laden en lossen apparaten kinne wurde útrist, ûnder foarbehâld fan ûnderhanneling mei de keaper.
Spesifikaasje
Ûnderdiel

Namme

Ienheid

Spesifikaasjes

Bewurking

berik

Maksimum draaiende diameter fan bed

mm

Φ550

Φ600

Maksimum rotearjende diameter fan sliding lichem

Φ350

Maksimum clamping diameter

Φ175

Φ250

Maksimum ferwurkjen lingte

Shaft 1000; Tube: 400

 

Spindle snelheid

r/min

1000

600

Headstock

Breedte fan headstock

mm

175

280

Spindle clamping spesifikaasjes

Φ130, 139, 166

Φ188, 212, 250

Spindle gat diameter

Φ175

Φ250

Hichte fan spindle sintrum nei grûn

1150

Feed

Reizgje

X1/X2

150/150

Z1/Z2

480/600

 

Foarút wurkje

X/Z

mm/r

0.001-6

Fluch foarút

X/Z

m/min

16

Tool post

Ryd wei

 

Slewing servo, locking hydraulysk

Oantal ark

Stasjon

8

Eksterne mes fjouwerkante grutte

mm

□32×32

Diameter fan saai bar

Φ50

Masinegrutte (lingte × breedte × hichte)

mm

4920 × 1860 (1910) × 1900

Machine gewicht

Netto gewicht

Kg

6700

Bruto gewicht

7700
---
Foarige:
Flat Type draaibank
Folgjende:
Hege kwaliteit CNC Pipe Threading Lathe
---
Stjoer jo berjocht nei ús:
Skriuw jo berjocht hjir en stjoer it nei ús